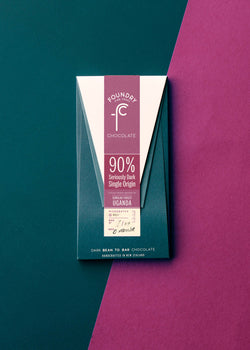 Semuliki Forest, Uganda 90%
Free shipping on every New Zealand order over $40


Bronze Medal winner in the NZ Chocolate Awards 2022
This contains 90% Semuliki Forest cacao for lovers of seriously dark chocolate.
Seriously dark yet surprisingly light, this 90% bar showcases the delicate silkiness of Semuliki Forest cacao.

In the heat and humidity of Western Uganda, smallholder farmers are producing the extraordinary organic cacao that goes into making this delicious 90% bar.
This incredible location results in a delicate dark chocolate that evokes toasted almonds, strawberries and a just hint of marshmallow.

Made with just two ingredients - Cacao Beans & Organic Cane Sugar. No added cacao butter.


70g


Ingredients: Organic Cacao Beans & Organic Cane Sugar. No added cacao butter, lecithin or vanilla.
Dairy Free, Gluten Free, Soy Free, Vegan and 100% Plant Based.
Origin Information:
Located in Bundibugyo, Western Uganda, Semuliki Forest cacao is grown by 3,400 organic smallholder farmers in the region, 52% of whom are women.
Latitude Trade Co. (LTC), the company that prepares and exports this cacao, is a registered B Corporation and operates a wide network of rural collection points where they purchase high quality wet cacao, paying at least 20% more to producers than other buyers in Uganda.
LTC always pays cash on delivery, with transparent pricing and certified weighing scales. The company offers an incredible variety of services to producers, ranging from agronomic and financial literacy trainings, to microfinance, insurance, support in opening bank accounts. Latitude is a leader in traceability, offering full traceability for every kg in every container shipped.
Source: Uncommon Cacao